Luggage Storage Albert Park
Travel easier in Albert Park
with luggage storage that comes to you

Staying in Albert Park?
Luggage while travelling is a hassle
Our job is to make
staying in Albert Park easier

We collect, store & deliver your bags, making you hands-free to Do Whatcha Wanna Do!
"I cannot recommend this service enough.You can pay to lug your suitcases around to one of the other luggage storage places OR you can pay (a very reasonable price) to have your luggage conveniently picked up and returned to you when you need it, on your terms. Chris could not have been more helpful and, like I said, I cannot recommend this service enough. The hundreds of 5 star google reviews do not lie. Thanks so much for making our travels so much easier."
Amazing Service! What a great concept, and SO WELL executed. Was a little dubious about how well this would work and I hate messing around waiting for people etc. The guys were very flexible, communicative, friendly and professional. We couldn't fault the service, or the way it was provided 10 out of 10 guys Wonderful!
A great service. Pick up of bags at the hotel and then drop off at the airport terminals was super convenient and hassle free. A stress free way to get bags to the airport and spend the day around Melbourne!
Luggage Storage in Albert Park
We carry bags, so you don't have to
Numbers increasing daily - correct 1/2/2023
No need to join or download an app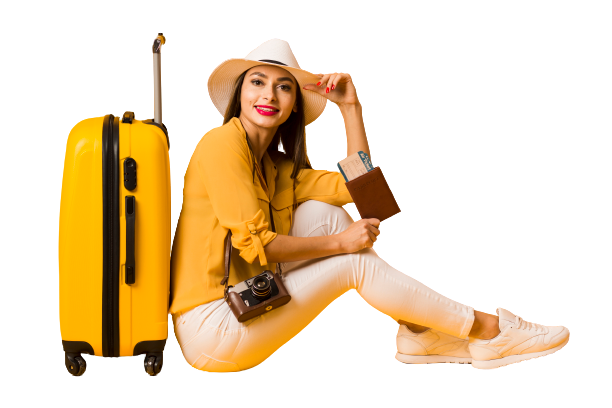 carrying your bags can be the pits
enjoy the GP Hands-free
We are like a locker on wheels.
Lockers can't be booked, are sometimes all taken, often broken, don't offer you insurance and worst of all, you have to find them, and then drag your bags to them.
BagBoyz® offers you a service that overcomes all of this.
Simply book your collection time and we will come to you.
Best of all, you don't need to go back to the locker and get your bags.
Our storage is located between the city and the airport.
We provide a mobile service that comes to you and then delivers your bags back to you, wherever & whenever you need them.
We want you to have a completely stress-free day.
A day where your plans are not restricted to carrying bags, retrieving bags or what you end up doing with your time.
We are travellers too and we promise, you will have more fun with your time, including the extra time gained by not getting to the locker, if BagBoyz® are storing your bags.
The cheapest option is carrying your bags around with you.
Second to that, is buying a bike lock and tying them to a pole.
We look at value as a combination of dollars and ease.
This is your holiday, no doubt well deserved.
So if you are looking for the easiest solution that will allow you to do more with your day and cause the least amount of stress, BagBoyz® is for you.
It's a holiday. Give yourself what you deserve.
The Easy Solution to Luggage In Albert Park
| | | | | |
| --- | --- | --- | --- | --- |
| | | | | Everywhere - We come to you! |
| | | | | |
| | | | | |
| | | | | Southern Cross Station - can fill up fast |
| | | | | Flinders Street Station - need to use a Myki to access |
| | | | | Varies - could be upstairs or far away, you don't know until after you book |
| Be My Guest BNB Concierge | | | | |
Sometimes all you need is a locker, if that is the case, try Southern Cross Train Station lockers. If they are full or broken, give us a try.
At BagBoyz®, we know you are the kind of traveller who wants to make the most of the day.
In order to do that, you need the freedom of your hands.
The problem is your luggage, which makes you feel restricted.
We believe holidays should be easy, relaxing & fun.
When we travel, we like to find the easiest way, that's why we come to you, so you have the easiest option for your bags.
So if you need to store your bags in Albert Park, you're at the right place – BagBoyz® Luggage Storage Albert Park.
Here's how it works: Click. Book. Enjoy.
So Book Now. Stop the frustration, start doing more and enjoy the day. As holidays are meant to be.
Luggage Storage Albert Park
Early Checkout
Don't just wait around. Make the most of your last day. Get coffee, go to the NGV, take your time.
Late Check-In
You're probably tired. Make the most of your first day. Eat food, go shopping, get off the footpath.
Interstate Trips
Avoid Checked luggage fees, they add up fast. Just take your wallet, backpack & camera.
Switching Hotels
Times don't match for checkout and check-in.
Take the kids to the aquarium.
Switching Hotels
Times don't match for checkout and check-in. Take the kids to the aquarium.
Road Trips
You won't need your big bags. Get a convertible, grab your wallet & take your camera.
Finding a locker
Other Luggage Storage involves getting there first & you have to return to collect it.
Where Can I Store My Luggage in Albert park
Luggage Storage Services in Albert Park
Luggage Storage Solution for staying in Albert Park
Albert Park luggage storage
Do you need convenient Luggage Storage in Albert Park, Melbourne?
Are you planning a visit to the sunny beachside Albert Park area in Melbourne, Australia?
Dragging your heavy luggage around can quickly become a burden and take away from your enjoyment.
That's where we come to the rescue with our convenient luggage storage options in Albert Park.
Whether you're a tourist, business traveller or local looking for temporary storage, we are the easiest solution.
Here's why our luggage storage service in Albert Park is the perfect choice.
Searching for Luggage Storage in Albert Park is no more because we come to you.
We then return them back to you, wherever you are & whenever you need, which means you have found the easiest solution to the bag drag while travelling.
A more practical solution to storage lockers.
More certainty compared to a luggage storage app that will send you to some random location, where you are dictated by variable operating hours.
Best of all, you don't need to drag your bag to that location or return back there before you head to your next destination, therefore you are truly Hands-Free.
Our storage facilities are everywhere in Albert Park as we come to you making us an incredibly convenient service.
You won't have to venture far from where you are as we collect or deliver your bags outside of the accommodation.
We are perfect for Luggage Storage at Grand Prix.
We want to give you peace of mind.
Bag storage with us is in our secure facility or riding shotgun in our vans.
Your bags are not stored out the back of some shop or an unmonitored locker.
You can trust that your belongings will be safe with us.
We offer flexible storage options to cater to your needs. Whether you need to store your luggage for a few hours, a day, or longer, we can do that.
We collect, store & deliver your luggage – Anytime. Anywhere.
So we work around your schedule.
BagBoyz® Luggage Storage in Albert Park are Melbourne born and bred.
During your store, if you need some advice on how to get somewhere, how to use the Myki or where you should venture for a bite, feel free to call us, we are only happy to help.
We may not have all the answers, but we are a good place to start.
"Where can you store your bags at the Grand Prix"?
We are 5 star. We work hard to get our ratings and we want to keep it that way. Travellers love us, because we make their day easier for them.
We are the luggage storage experts.
Luggage Storage At Grand prix
We go to all parts of Albert Park, including the Formula 1.
We don't actually drive on the track, but we will meet you nearby or at your accommodation before you head there.
You can then get to the track any way you like and just walk in. Best of all, when the race is finished, we will meet you at the airport with your bags.
Albert Park Hotel Luggage Storage
We provide a solution for luggage storage in Albert Park. We provide Grand Prix Luggage Storage.
Whether you are at a hotel, an Airbnb or  staying at short term accomodation, we can look after your bags between airport and accomodation. Have fun bag free.
Nothing beats watching F1 live and nothing beats doing it with ease. After check out, why not get us to look after your bags.
First of all, we'll pick up your bags, then store them securely and finally return them back to you when and where you need them.  Airports, Southern Cross Station, hotels, Airbnb, Station Pier and more.
Luggage Storage Bridport Street
If you are staying near Bridport Street, you are covered.
We are often collecting bags from there.
Best of all, we come to you at any time of the day, so you don't have to look for a place to store your bags that may or may not be open.
Booking your luggage storage with us is quick and easy.
Simply click here to reserve your storage space in advance.
We will meet you at the times you have selected.
So, why struggle with heavy bags when you can explore Albert Park freely?
Take advantage of our reliable and convenient luggage storage services and make the most of your time in Melbourne's playground.
Book your storage space today and enjoy a stress-free travel experience like never before.
With the convenience of luggage storage in Albert Park, you can make the most of your visit to this lovely suburb.
Explore the iconic Albert Park Beach, stroll around the lake, indulge in delicious treats at local cafés and immerse yourself in the vibrant atmosphere, all while unburdened by heavy bags.
What to do in Albert Park
Just 3km from Melbourne's CBD, Albert Park is where Melbourne likes to recreate.
Located along the bay and stretching east towards the park and the lake, Albert Park offers open space and is a great place to get outside; however, it is better without your bags.
Albert Park is easily accessible by tram down Clarendon Street, St Kilda Road or on the St Kilda Light Rail (Route 96).
Here's a list of some great places to eat, just make sure you do it hands free. The village feel is great and you can enjoy the sunshine with a late brunch, or come back for a fulfilling dinner.
Or if you prefer something a little low key, try Andrew's Hamburgers. The smell of onion will have you waving your hands (they are of course free now).
If art is more your thing, make sure you check out GAP a vibrant arts precinct producing a range of high-quality arts programs, workshops and activities for all ages.
Albert Park is easily accessible by the numerous trams, light rail, busses and bicycles but is the easiest when you are hands-free.
Book here and let BagBoyz Luggage Storage in Albert Park look after your bags. We'll hold them for as little or as long as you need and drop them right back to you.
BagBoyz® Luggage Storage Albert Park are the luggage storage and transfer experts.
Enjoy a picnic in Albert Park
Albert Park is more than just a suburb. It is a park with a massive lake.
Start your day exploring the beautiful park itself. Pack a picnic basket and relax in this serene urban park.
See the wildlife like the ducks or a bevy of Swans.
Fun fact – it is these Swans that the Sydney Swans get their name from.
Walk or Run around the lake
Now that you are Hands-Free and rid of the overwhelming feeling of dragging your bags, put the sneakers on and get moving.
Albert Park Lake offers a picturesque backdrop for a leisurely stroll or jog.
The 4.7km track is popular spot for locals.
Hot Tip – Want to get fantastic photos of Melbourne CBD – particularly at night? Venture to any part of the lake and snap away.
Our favourite angle is on the eastern side of the lake on a still winter's night. The skyline glistens and if you haven't been here for a while, you can see how much Melbourne has grown.
Visit the Australian Grand Prix Circuit
Not quite as exciting as race day, but if you are a Formula 1 fan, take a walk or a bike ride around the iconic Melbourne Grand Prix Circuit.
Personally, we would rather do it in Monte Carlo or Baku, but hey, not all cities have Formula 1.
If you are visiting around March, you can even catch the race during the Melbourne Grand Prix.
St Kilda Beach is just a short walk from Albert Park or if you are over walking, catch a tram.
Spend some time at the beach, enjoy the sandy shores or if it is hot enough, get in the water.
Hot Tip – St Kilda Pier is home to penguins, so you don't even need to venture to Phillip Island to see these cute little friends.
Enjoy the late nights or a Sunday Arvo session at The Espy, Prince of Wales, Dogs Bar, Big Mouth and more.
See what's on
Looking for a live show, make sure you check out The Palais
Albert Park, Middle Park, South Melbourne and St Kilda have a wide range of dining options. Try out local cafes and restaurants for breakfast, brunch or dinner.
Hot Tip – If you have stored your bags with BagBoyz® you can get a smaller table because you don't need the space for your luggage.
St Kilda offers a vibrant nightlife scene.
Explore the bars, clubs and live music venues for an exciting night out.
Play Golf at Albert Park Golf Course
Fancy a hit with the sticks?
Golf enthusiasts can tee off at the Albert Park Golf Course, which offers a challenging (to us) 18-hole course in the heart of the city.
Acland Street St Kilda is known for its eclectic shops, bakeries and cafes. 
It's a great place for shopping or to take a peak on the locals.
Melbourne's iconic trams are an excellent way to explore the city.
Albert Park has heaps of trams that take you to all different locations.
Top up that Myki and get ding-dinging.
Visit the botanical gardens
The Botanical Gardens is only a short tram away from Albert Park. Even easier to get to when you have used BagBoyz® Luggage Storage in Albert Park.
The Royal Botanical Gardens offers a peaceful escape with lush greenery, native fauna and exotic plants.
In the warmer months catch a flick at Moonlight Cinema where you can throw down a rug or snuggle into a bean bag and watch a film on the big screen while enjoying the beauty of the gardens.
Located in St Kilda, overlooking the bay, Luna Park should not be missed.
An iconic amusement park with vintage rides and carnival games.
Just hop on the 96 tram towards St Kilda.
Home to the world's oldest continually operating roller coaster – The Scenic Railway.
It's not quite punching the adrenalin of a Six Flags, but it is a great day or night out and is perfect for the kids.
get Fresh With South Melbourne Market
After you have made the wise decision store your bags in Albert Park, head towards the city and check out South Melbourne Market.
Explore the market for fresh produce, gourmet food, clothing and unique souvenirs.
It's even home to Melbourne's famous Dim Sim – Steamed or Fried, South Melbourne Market Dim Sims are worth their weight in gold.
Albert Park and its surrounding areas offer a diverse range of activities, making it a fantastic destination for both relaxation and adventure in Melbourne.
Whether you are into sports, leisure, dining or cultural experiences, you'll find plenty to do in this vibrant part of the city.
If it is your first or last day of your trip make sure you store your bags in Albert Park – The easiest way to do that is to use BagBoyz® Luggage Storage Albert Park.
We say easy because we come to you.
Store your bags pre check in or post Check Out
Are you around St Kilda?
Where can you store your bags before you check in to your Airbnb or short term accomodation? What do you do with your bags after you check out, while waiting for your flight?
We hear this a lot.
The hotels have the lobby. Short term properties have the footpath.
BagBoyz® are the the only service that looks after your luggage before Airbnb check in and/or after Airbnb check out.
A reliable, safe, and secure service, meaning you can rest assured. So get out there and make the most of the day – hands free.
We pick up and drop off your bags wherever and whenever you need them.
Melbourne Airport, Avalon Airport, Station Pier, Southern Cross Station. Anywhere in Melbourne CBD and the suburbs.
BagBoyz® also provide long term luggage storage. If you are visiting Australia and want to leave Melbourne for while and enjoy what the rest of the country has to offer. You can travel light and just take a backpack. We can look after the big bags and we are fully insured.
no need to search for luggage storage near me
Don't spend your time looking for somewhere to store on Gumtree. Melbourne we are the solution to the hassle of luggage when travelling.
Enjoy the benefits of an Airbnb or short term accomodation and make the most of the time before or after the time you occupy the property.
Go out for a coffee, take a selfie or three, explore Melbourne's rooftop bars, pop into an art gallery.
You name it. It all becomes easier when we are looking after your bags, because when we have your bags, you are hands free to do as you wish.
Don't just take our word for it.
Check out our reviews. We are 5 star.
Firstly, we are reliable, fully insured, local and direct.
Stop looking on Google. Play the day away by being hands free.
Secondly, you will love it and if you have kids with you they will love it more.
Thirdly, forget the packed trams and footpaths, trying to manoeuvre your way through. Melbourne was made to be enjoyed. Enjoy her.
So if you are looking for luggage storage. In Airbnb there generally isn't any, but now you have the solution.
The easiest solution to storing your bags
As we said, our customers are the best
what our clients have to say