Luggage Storage Insurance
Peace of mind insurance
with Luggage Storage that Comes to You!

Luggage Storage in Melbourne Insurance
Luggage Storage insurance
We provide a fully insured service. Not token guarantees or cover that will not cover you
Store your luggage with confidence
Our luggage storage insurance will have you covered, so where can you store your bags before you check in to your Airbnb or short term accomodation? What do you do with your bags after you check out, while waiting for your flight?
We hear this a lot.
The hotels have the lobby. Short term properties have the footpath, which means you are often just left standing there. In the heat, in the rain or in the wind.
BagBoyz® are the the only service that looks after your luggage before Airbnb check in and/or after Airbnb check out.
A reliable, safe, and secure service, meaning you can rest assured. So get out there and make the most of the day – hands free.
We pick up and drop off your bags wherever and whenever you need them, therefore you can get around hands free.
Melbourne Airport, Avalon Airport, Station Pier, Southern Cross Station. Anywhere in Melbourne CBD and the suburbs.
BagBoyz® also provide long term luggage storage. If you are visiting Australia and want to leave Melbourne for while and enjoy what the rest of the country has to offer. This means you can travel light and just take a backpack. We can look after the big bags and we are fully insured.
Travel insurance Luggage only
We all know things can sometimes go wrong. That's why we take out insurance.
In the unlikely event that BagBoyz® lose your luggage or create significant damage to your bags, you can rest assured that you are covered, with our luggage storage insurance.
Best of all, our luggage storage insurance policy is included with with your online booking, which means there are no additional costs.
Our systems that we have created, really minimise the likely hood of there being an issue; however we are covered for these events.
We do not offer some token bag guarantee, our cover is  $250,000.
It starts from the moment you hand over your bags and you have baggage storage insurance until we give them back to you.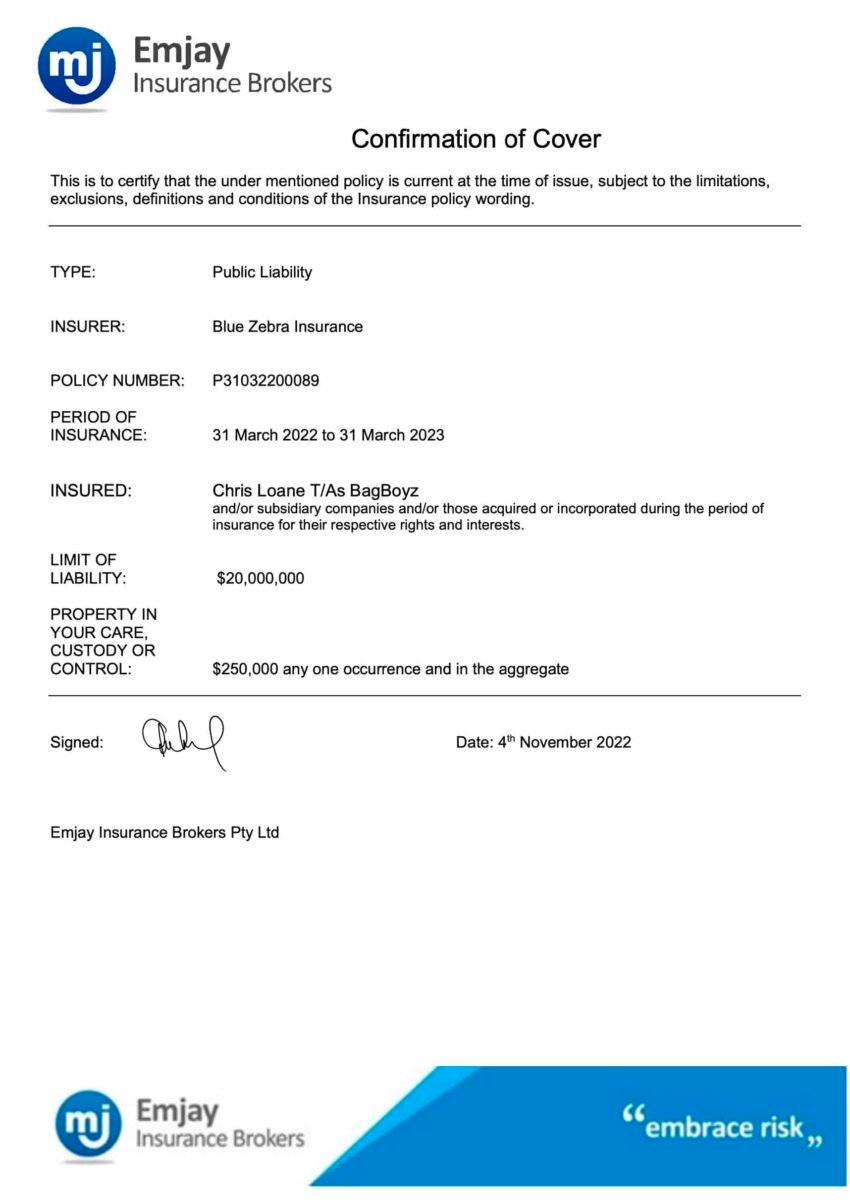 Don't spend your time looking for somewhere to store on Gumtree. Melbourne we are the solution to the hassle of luggage when travelling.
Enjoy the benefits of an Airbnb or short term accomodation and make the most of the time before or after the time you occupy the property.
Go out for a coffee, take a selfie or three, explore Melbourne's rooftop bars, pop into an art gallery.
You name it. It all becomes easier when we are looking after your bags, because when we have your bags, you are hands free to do as you wish.
Don't just take our word for it.
Check out our reviews. We are 5 star.
Firstly, we are reliable, local and direct.
Stop looking on Google. Play the day away by being hands free.
Secondly, you will love it and if you have kids with you they will love it more.
Thirdly, forget the packed trams and footpaths, trying to manoeuvre your way through. Melbourne was made to be enjoyed. Enjoy her.
So if you are looking for luggage storage. In Airbnb there generally isn't any, but now you have the solution.
Our job is to make
is to give you peace of mind

We collect, store & deliver your bags, making you hands-free to Do Whatcha Wanna Do!
As we said, our customers are the best
what our clients have to say