BagBoyz Luggage Storage Melbourne
Melbourne's Best Luggage Storage
That comes to you!

BagBoyz Luggage Storage Melbourne
Planning a trip to Melbourne and Searching for A Reliable Luggage Storage Option?
BagBoyz® are the ultimate solution for luggage storage in this bustling Australian city.
Say goodbye to lugging around heavy bags and hello to hassle-free exploration with BagBoyz®
Secure & Convenient Luggage Storage
When it comes to storing your belongings, security and convenience are what makes BagBoyz® the Luggage Storage Experts.
We ensure that your luggage is kept safe and secure at all times, to give you peace of mind knowing that your belongings are in good hands while you enjoy the sights and sounds of Melbourne.
Discover the Best Luggage Storage in Melbourne: BagBoyz®
Locations throughout Melbourne
At BagBoyz®, the best luggage storage in Melbourne, we understand the importance of accessibility.
We are the easiest option for suitcase storage in Melbourne. Our locations are everywhere because we come to you.
There is no need to battle a packed tram and head towards the Melbourne luggage lockers at Souther Cross Station.
There is no need to battle the rain to try an find some random location from some luggage storage app.
We make it easy.
We collect, store & deliver your bags. Anywhere. Anytime.
Whether you're exploring the vibrant Central Business District (CBD), immersing yourself in the trendy Fitzroy neighbourhood, or enjoying the coastal beauty of St Kilda, you'll find a BagBoyz® at your fingertips.
Store your bags with us, and we'll take care of them while you make the most of your time in Melbourne.
BagBoyz® want you to enjoy your stay in Melbourne and make the most of your extra time.
We strive to enhance your overall travel experience.
We are Melbourne born and bred. We may not know every part of this city, but we know a bit.
Whether it be public transport advice, which app to download, where to go shopping or to grab a bite to eat, we are pretty confident we can be of assistance.
So if you need a tip or two during your hands-free day, you can call us. We are only glad to help.
We want to ensure that your time in Melbourne is memorable for all the right reasons.
Open 24/7. Including Public Holidays
Be Hands-Free With BagBoyz®
Melbourne is a city full of surprises, waiting to be discovered.
Don't let heavy bags hold you back from exploring its hidden gems.
Experience the joy of travelling light and make the most of your time in Melbourne with BagBoyz® the best luggage storage in Melbourne.
Book now and unlock the freedom to immerse yourself fully in the magic of Melbourne.
BagBoyz® Luggage Storage in Melbourne is here to make your journey extraordinary.
luggage storage melbourne 24/7
WE'LL HELP YOU
GET MORE OUT OF YOUR DAY
Numbers increasing daily - correct 1/2/2023
ditch the bags and do more with your day
Luggage Storage with us is Anywhere & Anytime, because WE COME TO YOU!
BagBoyz® Melbourne Luggage Storage and Transfer are your first choice when you need to store your bags.
We are baggage storage that comes to you, which means you can start the day – Hands Free.
Mobile bag storage that meets you whenever and wherever you need your luggage stored, so you can make the most of your day. In other words, the easiest solution to your luggage storage needs.
Ideal for travellers or people who shop too much.
Firstly, we pick up your bags, securely store them and then drop them back to you when and where you need it. Meaning you don't need to return to where you gave us your bags and you can make the most of the day.
If you're asking yourself, "who can mind my bag?" and is there a better alternative to a locker, think BagBoyz® –  we are never full, never out of order and we are secure.
We are the best luggage storage in Melbourne.
Our service is perfect if you check out early & fly out at night, arrive early for your check-in,  or if you are leaving Melbourne for a few days – say for an interstate or road trip and are returning to Melbourne to fly home, which means you can travel light.
You can save money on Airline checked luggage fees or hire a smaller car, meaning you'll have more money to spend on shopping or doing that extra activity.
We saved a family from Perth over $300 in car hire fees, by delivering their bags from Melbourne Airport to Geelong, because they could hire a smaller car with less baggage.
Spend your time bag free and make the most of your day.
Storage facility
Airport shuttle service
Logistics service
Delivery Company
Delivery service
Our BagBoyz® Luggage Storage Review Sites
Our service is simple
No need to search for a location, because we come to you
You don't need to check the open times, because we are open 24 hours a day
There is no need to return to that location to collect your bags, because we transfer your luggage back to you, wherever you are.
We are Storage Lockers in Melbourne on wheels
Southern Cross Station. Skybus, V/Line, Metro
If you are looking for luggage storage at Southern Cross Station we can pick it up. It's free and we have a bag drop available near by at 585 Little Collins Street, Melbourne.
You must prebook.
Hours 10:00am – 5:00pm – Monday to Friday
If you are looking outside these hours, use our free pick up service 24/7.
Drop offs at 585 Little Collins Street are the same price as our pick up service. 
Services at 585 Little Collins Street must include our drop off service. We drop your luggage back to you, wherever and whenever you need.
Our bag drop off is a great option if you want to get on your way, which means more time for you to be Hands Free.
Don't forget to book before you drop as non booked services will not be accepted.
Address 24-26 Franklin Street, Melbourne 3000
Email enquiries@bagboyzbagboyz.com
No need to join or download an app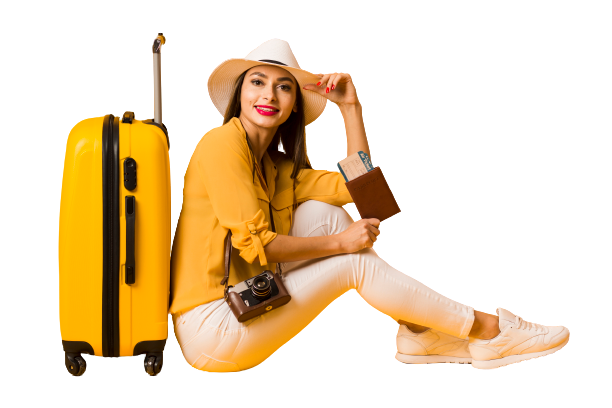 As we said, our customers are the best
what our clients have to say
BagBoyz® Luggage Storage Services in Melbourne
Luggage Storage Melbourne 3000, VIC Australia
Luggage Storage East Melbourne 3002, VIC Australia
Luggage Storage West Melbourne 3003, VIC Australia
Luggage Storage Melbourne 3004, VIC Australia
Luggage Storage Southbank 3006, VIC Australia
Luggage Storage Docklands 3008, VIC Australia
Luggage Storage Footscray 3011, VIC Australia
Luggage Storage West Footscray 3012, VIC Australia
Luggage Storage Yarraville 3013, VIC Australia
Luggage Storage Newport 3015, VIC Australia
Luggage Storage Williamstown 3016, VIC Australia
Luggage Storage Altona 3018, VIC Australia
Luggage Storage Braybrook 3019, VIC Australia
Luggage Storage Sunshine 3020, VIC Australia
Luggage Storage St Albans 3021, VIC Australia
Luggage Storage Ardeer 3022, VIC Australia
Luggage Storage Caroline Springs 3023, VIC Australia
Luggage Storage Wyndham Vale 3024, VIC Australia
Luggage Storage Altona North 3025, VIC Australia
Luggage Storage Derrimut 3026, VIC Australia
Luggage Storage Williams Landing 3027, VIC Australia
Luggage Storage Laverton 3028, VIC Australia
Luggage Storage Hoppers Crossing 3029, VIC Australia
Luggage Storage Werribee 3030, VIC Australia
Luggage Storage Flemington 3031, VIC Australia
Luggage Storage Maribyrnong 3032, VIC Australia
Luggage Storage Keilor East 3033, VIC Australia
Luggage Storage Avondale Heights 3034, VIC Australia
Luggage Storage Keilor 3036, VIC Australia
Luggage Storage Sydenham 3037, VIC Australia
Luggage Storage Keilor Downs 3038, VIC Australia
Luggage Storage Moonee Ponds 3039, VIC Australia
Luggage Storage Essendon 3040, VIC Australia
Luggage Storage Essendon North 3041, VIC Australia
Luggage Storage Niddrie 3042, VIC Australia
Luggage Storage Tullamarine 3043, VIC Australia
Luggage Storage Pascoe Vale 3044, VIC Australia
Luggage Storage Melbourne Airport 3045, VIC Australia
Luggage Storage Glenroy 3046, VIC Australia
Luggage Storage Broadmeadows 3047, VIC Australia
Luggage Storage Coolaroo 3048, VIC Australia
Luggage Storage Westmeadows 3049, VIC Australia
Luggage Storage North Melbourne 3051, VIC Australia
Luggage Storage Parkville 3052, VIC Australia
Luggage Storage Carlton 3053, VIC Australia
Luggage Storage Carlton North 3054, VIC Australia
Luggage Storage Brunswick West 3055, VIC Australia
Luggage Storage Brunswick 3056, VIC Australia
Luggage Storage Brunswick East 3057, VIC Australia
Luggage Storage Coburg 3058, VIC Australia
Luggage Storage Greenvale 3059, VIC Australia
Luggage Storage Fawkner 3060, VIC Australia
Luggage Storage Campbellfield 3061, VIC Australia
Luggage Storage Somerton 3062, VIC Australia
Luggage Storage Oaklands Junction 3063, VIC Australia
Luggage Storage Craigieburn 3064, VIC Australia
Luggage Storage Fitzroy 3065, VIC Australia
Luggage Storage Collingwood 3066, VIC Australia
Luggage Storage Abbotsford 3067, VIC Australia
Luggage Storage Clifton Hill 3068, VIC Australia
Luggage Storage Northcote 3070, VIC Australia
Luggage Storage Thornbury 3071, VIC Australia
Luggage Storage Preston 3072, VIC Australia
Luggage Storage Reservoir 3073, VIC Australia
Luggage Storage Thomastown 3074, VIC Australia
Luggage Storage Lalor 3075, VIC Australia
Luggage Storage Epping 3076, VIC Australia
Luggage Storage Alphington 3078, VIC Australia
Luggage Storage Ivanhoe 3079, VIC Australia
Luggage Storage Heidelberg West 3081, VIC Australia
Luggage Storage Mill Park 3082, VIC Australia
Luggage Storage Bundoora 3083, VIC Australia
Luggage Storage Heidelberg 3084, VIC Australia
Luggage Storage Macleod 3085, VIC Australia
Luggage Storage La Trobe University 3086, VIC Australia
Luggage Storage Watsonia 3087, VIC Australia
Luggage Storage Greensborough 3088, VIC Australia
Luggage Storage Diamond Creek 3089, VIC Australia
Luggage Storage Plenty 3090, VIC Australia
Luggage Storage Yarrambat 3091, VIC Australia
Luggage Storage Lower Plenty 3093, VIC Australia
Luggage Storage Montmorency 3094, VIC Australia
Luggage Storage Eltham 3095, VIC Australia
Luggage Storage Wattle Glen 3096, VIC Australia
Luggage Storage Kangaroo Ground 3097, VIC Australia
Luggage Storage Hurstbridge 3099, VIC Australia
Luggage Storage Kew 3101, VIC Australia
Luggage Storage Kew East 3102, VIC Australia
Luggage Storage Balwyn 3103, VIC Australia
Luggage Storage Balwyn North 3104, VIC Australia
Luggage Storage Bulleen 3105, VIC Australia
Luggage Storage Templestowe 3106, VIC Australia
Luggage Storage Templestowe Lower 3107, VIC Australia
Luggage Storage Doncaster 3108, VIC Australia
Luggage Storage Doncaster East 3109, VIC Australia
Luggage Storage Donvale 3111, VIC Australia
Luggage Storage Warrandyte 3113, VIC Australia
Luggage Storage Park Orchards 3114, VIC Australia
Luggage Storage Wonga Park 3115, VIC Australia
Luggage Storage Chirnside Park 3116, VIC Australia
Luggage Storage Richmond 3121, VIC Australia
Luggage Storage Hawthorn 3122, VIC Australia
Luggage Storage Hawthorn East 3123, VIC Australia
Luggage Storage Camberwell 3124, VIC Australia
Luggage Storage Burwood 3125, VIC Australia
Luggage Storage Canterbury 3126, VIC Australia
Luggage Storage Mont Albert 3127, VIC Australia
Luggage Storage Box Hill 3128, VIC Australia
Luggage Storage Mont Albert North 3129, VIC Australia
Luggage Storage Blackburn 3130, VIC Australia
Luggage Storage Nunawading 3131, VIC Australia
Luggage Storage Mitcham 3132, VIC Australia
Luggage Storage Vermont 3133, VIC Australia
Luggage Storage Ringwood 3134, VIC Australia
Luggage Storage Ringwood East 3135, VIC Australia
Luggage Storage Croydon 3136, VIC Australia
Luggage Storage Kilsyth 3137, VIC Australia
Luggage Storage Mooroolbark 3138, VIC Australia
Luggage Storage Seville 3139, VIC Australia
Luggage Storage Lilydale 3140, VIC Australia
Luggage Storage South Yarra 3141, VIC Australia
Luggage Storage Toorak 3142, VIC Australia
Luggage Storage Armadale 3143, VIC Australia
Luggage Storage Malvern 3144, VIC Australia
Luggage Storage Malvern East 3145, VIC Australia
Luggage Storage Glen Iris 3146, VIC Australia
Luggage Storage Ashburton 3147, VIC Australia
Luggage Storage Chadstone Centre 3148, VIC Australia
Luggage Storage Mount Waverley 3149, VIC Australia
Luggage Storage Glen Waverley 3150, VIC Australia
Luggage Storage Burwood East 3151, VIC Australia
Luggage Storage Wantirna 3152, VIC Australia
Luggage Storage Bayswater 3153, VIC Australia
Luggage Storage The Basin 3154, VIC Australia
Luggage Storage Boronia 3155, VIC Australia
Luggage Storage Ferntree Gully 3156, VIC Australia
Luggage Storage Upwey 3158, VIC Australia
Luggage Storage Menzies Creek 3159, VIC Australia
Luggage Storage Belgrave 3160, VIC Australia
Luggage Storage Caulfield North 3161, VIC Australia
Luggage Storage Caulfield 3162, VIC Australia
Luggage Storage Carnegie 3163, VIC Australia
Luggage Storage Dandenong South 3164, VIC Australia
Luggage Storage Bentleigh East 3165, VIC Australia
Luggage Storage Oakleigh 3166, VIC Australia
Luggage Storage Oakleigh South 3167, VIC Australia
Luggage Storage Clayton 3168, VIC Australia
Luggage Storage Clayton South 3169, VIC Australia
Luggage Storage Mulgrave 3170, VIC Australia
Luggage Storage Springvale 3171, VIC Australia
Luggage Storage Dingley Village 3172, VIC Australia
Luggage Storage Keysborough 3173, VIC Australia
Luggage Storage Noble Park 3174, VIC Australia
Luggage Storage Dandenong 3175, VIC Australia
Luggage Storage Scoresby Bc 3176, VIC Australia
Luggage Storage Doveton 3177, VIC Australia
Luggage Storage Rowville 3178, VIC Australia
Luggage Storage Scoresby 3179, VIC Australia
Luggage Storage Knoxfield 3180, VIC Australia
Luggage Storage Prahran 3181, VIC Australia
Luggage Storage St Kilda 3182, VIC Australia
Luggage Storage Balaclava 3183, VIC Australia
Luggage Storage Elwood 3184, VIC Australia
Luggage Storage Elsternwick 3185, VIC Australia
Luggage Storage Brighton 3186, VIC Australia
Luggage Storage Brighton East 3187, VIC Australia
Luggage Storage Hampton 3188, VIC Australia
Luggage Storage Moorabbin 3189, VIC Australia
Luggage Storage Highett 3190, VIC Australia
Luggage Storage Sandringham 3191, VIC Australia
Luggage Storage Cheltenham 3192, VIC Australia
Luggage Storage Beaumaris 3193, VIC Australia
Luggage Storage Mentone 3194, VIC Australia
Luggage Storage Mordialloc 3195, VIC Australia
Luggage Storage Chelsea 3196, VIC Australia
Luggage Storage Carrum 3197, VIC Australia
Luggage Storage Seaford 3198, VIC Australia
Luggage Storage Frankston 3199, VIC Australia
Luggage Storage Frankston North 3200, VIC Australia
Luggage Storage Carrum Downs 3201, VIC Australia
Luggage Storage Heatherton 3202, VIC Australia
Luggage Storage Bentleigh 3204, VIC Australia
Luggage Storage South Melbourne 3205, VIC Australia
Luggage Storage Albert Park 3206, VIC Australia
Luggage Storage Port Melbourne 3207, VIC Australia