Luggage Storage After Checkout
Travel easier
after checkout between hotel and airport
with luggage storage that comes to you

Luggage after checkout
can be a bit of a drag
Our job is to make
after checkout easier

We collect, store & deliver your bags, making you hands-free to Do Whatcha Wanna Do!
"I cannot recommend this service enough.You can pay to lug your suitcases around to one of the other luggage storage places OR you can pay (a very reasonable price) to have your luggage conveniently picked up and returned to you when you need it, on your terms. Chris could not have been more helpful and, like I said, I cannot recommend this service enough. The hundreds of 5 star google reviews do not lie. Thanks so much for making our travels so much easier."
Amazing Service! What a great concept, and SO WELL executed. Was a little dubious about how well this would work and I hate messing around waiting for people etc. The guys were very flexible, communicative, friendly and professional. We couldn't fault the service, or the way it was provided 10 out of 10 guys Wonderful!
A great service. Pick up of bags at the hotel and then drop off at the airport terminals was super convenient and hassle free. A stress free way to get bags to the airport and spend the day around Melbourne!
After Checkout WE'LL HELP YOU
GET MORE OUT OF YOUR DAY
Numbers increasing daily - correct 1/2/2023
Where To Keep Luggage After Checkout
Luggage Storage with us is Anywhere & Anytime, because WE COME TO YOU!
When it comes to convenient and reliable luggage storage after checkout in Melbourne, BagBoyz® is your go-to solution.
We understand the importance of hassle-free travel, especially during those precious hours between hotel checkout and your flight.
With our exceptional service that comes to you our locations are infinite.
We cater to your needs while maximising your time in the city.
BagBoyz® are located where you are.
It doesn't matter what time you book after checkout, as we will be there at the time you nominate.
Hotels, airports, Airbnbs, tourist attractions – wherever; making us the easiest solution to storing your bags after checking out of your accommodation or finishing what you are doing.
This ensures that you can make the most of your remaining time in Melbourne without the burden of carrying around heavy bags.
Trust is paramount when it comes to storing your belongings, and at BagBoyz®, we take security seriously.
Your bags are either riding shotgun in our vans or securely stored in our remote secure storage facility.
You can enjoy peace of mind knowing that your bags are in good hands.
Booking with BagBoyz® is quick and simple.
You can easily reserve your ideal times through our user-friendly website or if you get stuck, give us a call.
We are here to accommodate your schedule and ensure a seamless experience.
Spacious Storage Facilities
We understand that luggage comes in various sizes and that's why we provide spacious storage areas to accommodate all types of bags, from small carry-ons to large suitcases.
We don't store your bags out the back of some random shop and we don't over commit.
Our facilities are designed to efficiently store your luggage, keeping them organised and easily accessible.
Travelling can be expensive and we believe that luggage storage shouldn't add to your financial burden.
BagBoyz® offers competitive rates that won't break the bank.
Our transparent pricing ensures you know exactly what you're paying for, with no hidden fees or surprises.
Our price includes all taxes and bank fees. What you are quoted is what you pay in $AUD.
There are other storage options available and sometimes they are cheaper. They do involve effort from your end, but if you are looking for the cheapest option , we will point you in the right direction.
More often than not, we are cheaper.
Flexible storage duration
We recognise that the time between the hotel after checkout and your flight may vary.
That's why we offer flexible storage durations.
Whether you need a few hours, a day or even longer, we can accommodate your specific requirements.
We do charge per calendar day, but we do collect your bags at the time you don't need them and return them back when you do, which means you can make the most of your time in Melbourne.
Efficient PICK UP & DROP OFF
We value your time, which is why we have streamlined our bag pick-up & drop-off service. Perfect for after checkout from the hotel.
At pick up, you can leave your bags on the footpath and be on your way.
At drop off, we will have your bags back to you within a minute.
We don't request a copy of your ID or booking number and you don't need to wait around while we tag your bags up (if needed).
Friendly & Knowledgeable staff
We are local Melbournians.
Our dedicated team is always ready to assist you with any questions or concerns you may have.
We pride ourselves on delivering exceptional customer service and ensuring that your experience with BagBoyz® is pleasant and stress-free.
We believe there is no such thing as too much communication and we will communicate with you through the entire process.
If you need to know something about this town, we are help.
If you need assistance with the public transport, Myki, where to get a coffee or grab a bite to eat, you can call us anytime and if we know the answer, we will help you.
From recommendations for nearby attractions to local insights, our staff are here to make your visit to Melbourne memorable.
Well maintained facilities
Cleanliness and hygiene are of utmost importance to us.
Our storage facilities are regularly cleaned, sanitised, and well-maintained to provide a comfortable and pleasant environment for your belongings.
In the event of the odd pandemic, we follow all regulations of the day.
We strive to exceed your expectations and provide a pristine storage space for your peace of mind.
BagBoyz® has gained a reputation as one of Melbourne's leading luggage storage providers.
We are proud to be trusted by travellers from all over the world who have experienced the convenience and reliability of our services.
Don't just take our word for it – read the positive reviews and testimonials from satisfied customers who have chosen BagBoyz® for their luggage storage needs.
Melbourne's best Luggage Storage After Checkout
When you choose BagBoyz® Luggage Storage for the time between your hotel checkout and flight, you can rest assured that your belongings are in safe hands and ideally not in yours.
Store your bags. Go out, relax and have fun.
Our service is simple
No need to search for a location, because we come to you
You don't need to check the open times, because we are open 24 hours a day
There is no need to return to that location to collect your bags, because we transfer your luggage back to you, wherever you are.
We are Storage Lockers in Melbourne on wheels
Selfies are easier when you are not holding a suitcase
Head of Bagging , BagBoyz®
Luggage Storage After Checkout
Early Checkout
Don't just wait around. Make the most of your last day. Get coffee, go to the NGV, take your time.
Late Check-In
You're probably tired. Make the most of your first day. Eat food, go shopping, get off the footpath.
Interstate Trips
Avoid Checked luggage fees, they add up fast. Just take your wallet, backpack & camera.
Switching Hotels
Times don't match for checkout and check-in.
Take the kids to the aquarium.
Switching Hotels
Times don't match for checkout and check-in. Take the kids to the aquarium.
Road Trips
You won't need your big bags. Get a convertible, grab your wallet & take your camera.
Finding a locker
Other Luggage Storage involves getting there first & you have to return to collect it.
No need to join or download an app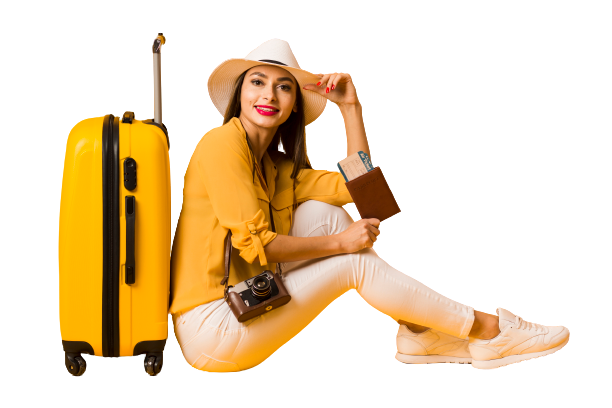 | | | | | |
| --- | --- | --- | --- | --- |
| | | | | Everywhere - We come to you! |
| | | | | |
| | | | | |
| | | | | Southern Cross Station - can fill up fast |
| | | | | Flinders Street Station - need to use a Myki to access |
| | | | | Varies - could be upstairs or far away, you don't know until after you book |
| Be My Guest BNB Concierge | | | | |
Sometimes all you need is a locker, if that is the case, try Southern Cross Train Station lockers. If they are full or broken, give us a try.
As we said, our customers are the best
what our clients have to say
The easiest solution to storing your bags